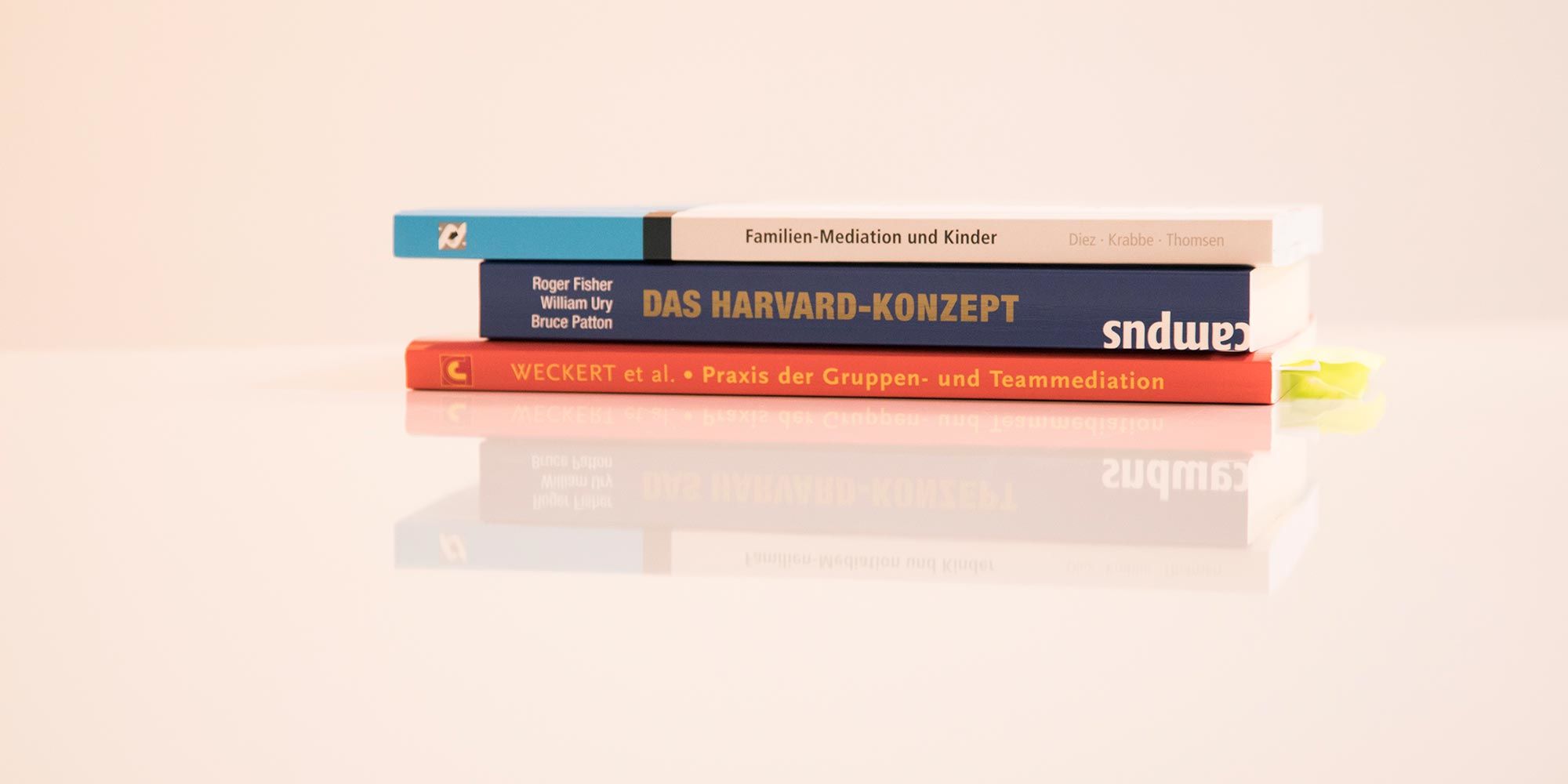 Building blocks of mediation
Mediation – finding a sustainable solution together
Mediation is always about your interests, on both sides of the conflict. Nothing is decided over your head. Only a solution that both parties support can end the conflict.
Mediation – finding a viable solution together. For a viable future in which you can meet again without conflict.
As a mediator, I am neutral. And I am there for both of you.
As a mediator, I am neutral and equally respect the interests of all parties. I lead through the meetings, moderate your communication, listen deeply and ask the right questions. That's how I enable your solutions. I am there for both of you, in every situation. With my head and my heart, because you are important to me.
Mediation is voluntary. You can carry on until you jointly reach an agreement, but you are free to walk away at any time (note to which large extent self-responsibility and autonomy are the distinctive characteristics of mediation!). Mediation obstructs nothing: All other avenues of dispute resolution remain open as an alternative. Mediation is an option: your option.
Mediation is confidential and allows for openness
The mediation is absolutely confidential – that's the law, and I'll make it double sure in our mediation contract. This allows openness in mediation: we can communicate freely in mediation and deal with each other. One-on-one talks are absolutely confidential.
We find individual and amicable solutions
There is not "the solution" in mediation. The solutions and results we find in mediation are always individual – we do not know what they might look like in the beginning, but in the end, they´ll always be personal and unique. You, the mediands, have it in your own hands. And it always works by way of agreement, both sides to the dispute must agree with confidence. Otherwise we continue to work together.
Mediation saves time and money
A big advantage of mediation is its cost and time savings. While legal proceedings often take years, we can come to a conclusion much faster in mediation, often within a few weeks or months. Because mediation gets to the point: compact, focused and cost-conscious. I'll make sure it does. This is good for everyone involved because the situation is resolved quickly and efficiently.
Mediation – an elegant method of conflict resolution
Mediation is an elegant method of conflict resolution because it provides a face-saving way forward. It takes place at eye level. Together we venture to the roots of a dispute; we look underneath the surface (mom´s precious painting; the difficult cooperation with the ex-colleague, now boss). This is often the key to a healing and empowering conflict resolution. Together, we clean up your dispute sustainably. That is tremendously liberating. And you can look into each other´s eyes again or, as the case may be, start doing so for the first time.
MEDIATION – A CONFLICT SOLUTION IN EMOTIONAL BALANCE
Personal conflicts often mean great stress, your nerves are on the edge. I'm used to dealing with strong emotions. By way of mediation I make it possible to objectify the conflict and to smoothen the highest waves. So we can find solutions cooperatively and constructively. Because there is nothing worse than a conflict that keeps coming back to haunt you at night. Mediation is the key to actually avoid this. It is a nerve-sparing method of conflict resolution.
Mediation is unbiased and transparent
Mediation starts on a white sheet of paper. I know nothing about your conflict before the mediation session, but experience everything in the joint mediation sessions. This is the only way to ensure that I am neutral and bipartisan. Mediation is unbiased and transparent. This also means that no letters, pleadings or written statements are exchanged. The mediation takes place exclusively in our personal meetings. So you and I know exactly what is going on and where we all stand together.
»I did not want to split up because of the kids. We have found ways in mediation to interact appropriately.«
Katharina S., 44, civil servant